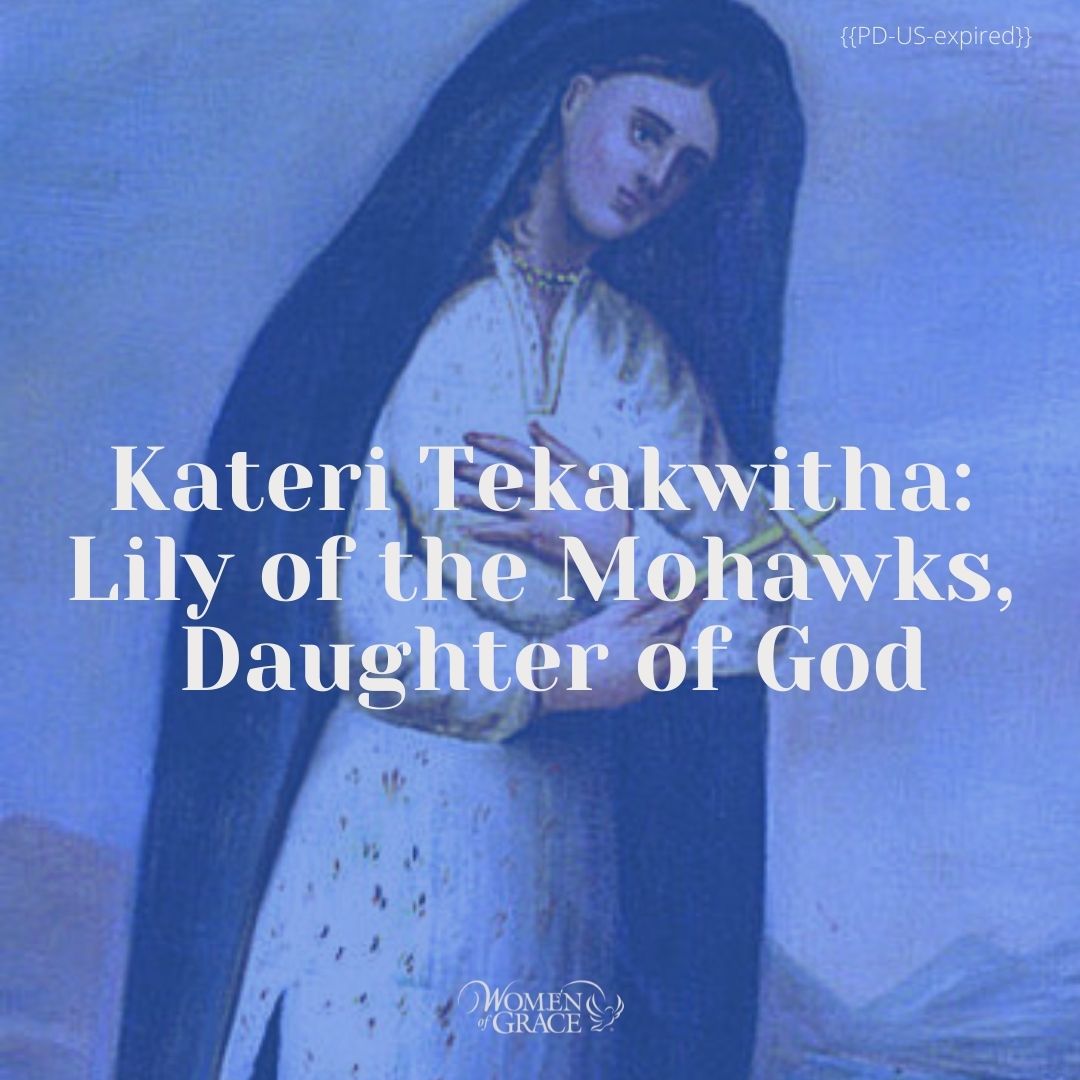 "I am no longer my own. I have given myself entirely to Jesus Christ." Saint Kateri Tekakwitha
Today is a special day here at Women of Grace. We celebrate the feast day of one of our patron saints, St. Kateri Tekakwitha, aka "Lily of the Mohawks," who is the first Native American saint. She is the patroness of our Young Women of Grace study program.
Susan Brinkmann, OCDS, who has a special devotion to Saint Kateri, wrote the following mini-biography about her life:
Saint Kateri, who died at the age of 24 in 1680, was born in Fonda, New York, and fled to Canada after being baptized because of pressure from her Mohawk uncle. She is entombed inside the St. Francis-Xavier Church in Kahnawake, a Mohawk community near Montreal.
Born to a Mohawk father and Algonquin mother, Kateri survived the smallpox epidemic of 1661-62 that killed both her parents and a younger brother. The disease weakened her eyesight and left her face scarred for life.
She was baptized Catholic in 1676 and, after facing pressure from her uncle to give up Catholicism, fled to the Jesuit mission of St. Francois Xavier du Sault, in an area along the St. Lawrence River around what is now Kahnawake and Ville Sainte-Catherine in Canada. She took a vow of virginity, fasted frequently, and engaged in harsh penitential practices to atone for her sins and the sins of her people. These practices were said to have further weakened her already frail body.
When she died, eyewitnesses reported that her scarred face became radiantly beautiful. Testimony by the priest who attended her death as well as other eyewitness accounts of the event led to the Vatican's decision to declare her disappearing scars to have been beyond medical explanation. This was the first miracle that led to her beatification. " In my mind, there is no doubt of the holiness of Blessed Kateri," said Msgr. Paul Lenz, the Church official charged with finding a miracle that could qualify Kateri for sainthood. " She is truly worthy to be named a saint."
Kateri was persecuted by her own people for being a Christian and was forced to leave her village. She offered all of her sufferings for the conversion of sinners and was known to receive holy communion with great devotion. Her life was a shining example of how to live the Christian faith in difficult circumstances and how to model the feminine genius. St. Kateri Tekakwitha, pray for us.
----------------------------------
Click the image below to join and if you've already registered, you should receive a reminder link directly from Zoom. Please be sure to share the information below with your friends and family!