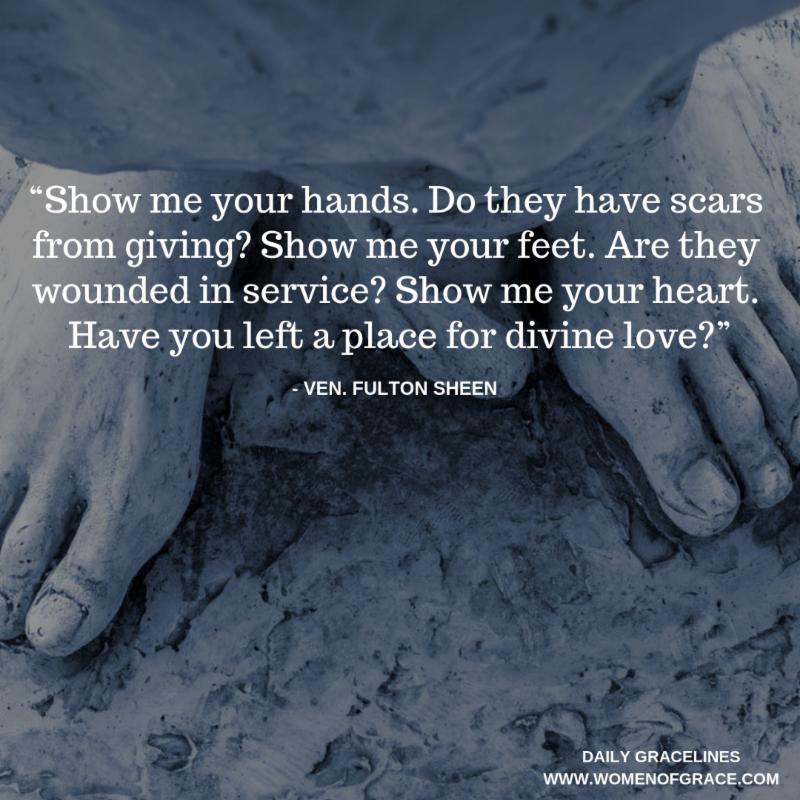 March 28
"Show me your hands. Do they have scars from giving? Show me your feet. Are they wounded in service? Show me your heart. Have you left a place for divine love?"
-Ven. Fulton Sheen
Today's Reflection
These words of Fulton Sheen cut to the quick. How much do we really give for the Lord? Are we just scratching the surface of where He wants us to be? Take time to ponder how you can step deeper into charity and love, especially during this time of great uncertainty.
---
Dear Women of Grace family, As a means of daily support and inspiration, we will temporarily be sharing our Daily Gracelines with our entire email audience. We hope it is a source of daily encouragement for you as we walk through these challenging times together. We are praying for you. If you are not a subscriber, click here to subscribe.
With love and prayers, Your Women of Grace Family
If you enjoy Daily Gracelines, please prayerfully consider making a donation to support and sustain our apostolate so that we may continue to provide this and all of our resources designed to nourish and grow your Catholic faith. DONATE