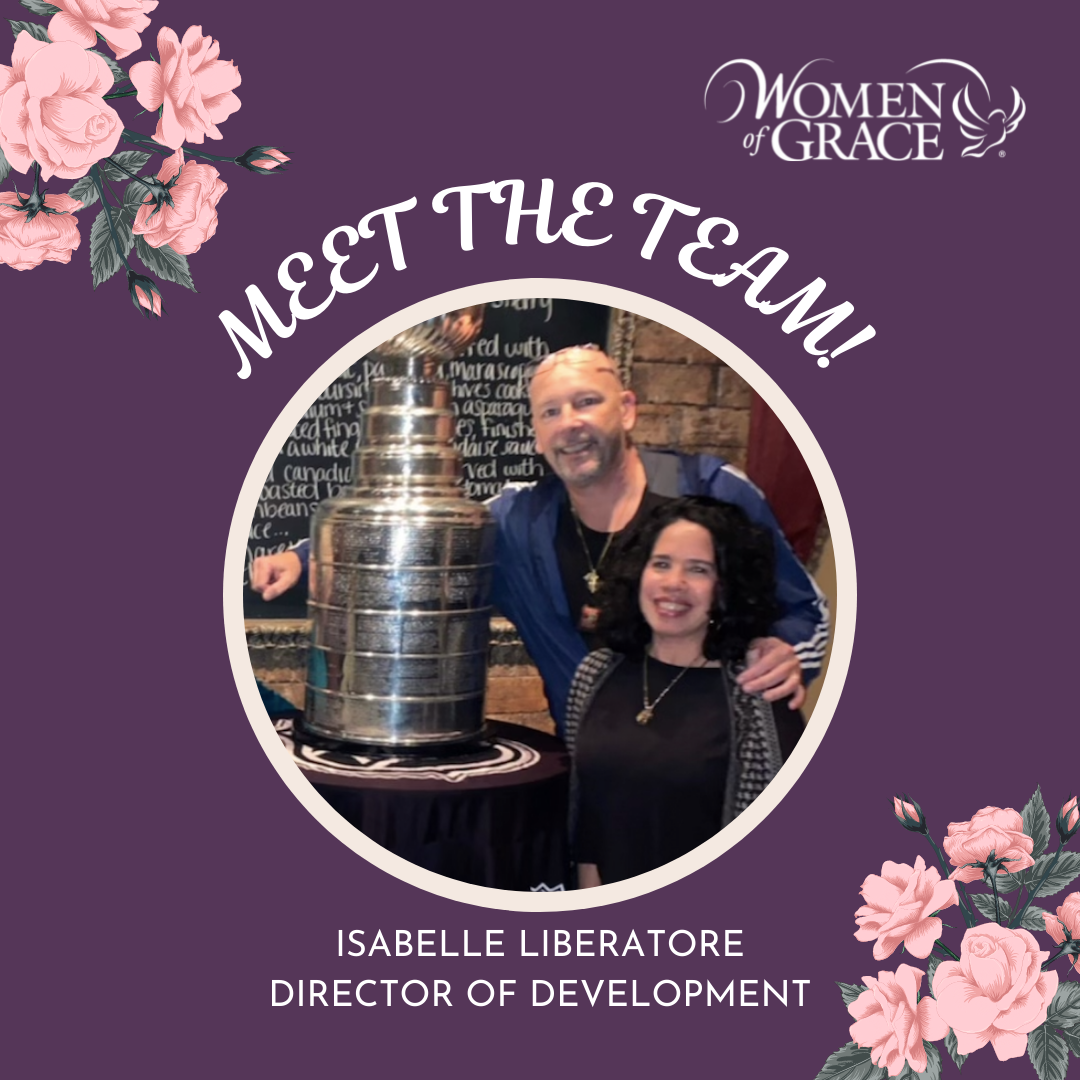 It's time to meet the team that makes Women of Grace the impactful apostolate that it is!
Today we're featuring Isabelle Liberatore, who is the Director of Development for Women of Grace. We hope you enjoy learning more about Isabelle from her answers to the questions below. Stay tuned for regular "Meet the Team" features!
1 How long have you been on the Women of Grace team and how did you begin?
Isabelle Liberatore is the Director of Development at Women of Grace. She left her career in Information Technology Consulting to enter the non-profit sector, joining the Living His Life Abundantly / Women of Grace team for the first time in 1998, and returning in 2010. She has worn a number of hats including grant-writing, marketing, management, social media, and now fundraising and development. She loves meeting donors and sacred sisters around the world and has been enriched by the many friendships she has made through her work in our mission to "transform the world one woman at a time."
Isabelle lives with her husband James in Tampa, Florida. They are both cancer survivors and they continually give glory to God for His healing grace. She is also a budding oil painter and enjoys creating works inspired by nature, the saints, and the beauty of the Catholic faith. If you'd like to learn more about her journey, check out this video.
2 What do you love best about Women of Grace's apostolate?
"I love working for Jesus and His kingdom, meeting sacred sisters and donors in person at our events, and transforming the world for Christ with our amazing team of staff members, regional coordinators, donors, and facilitators. Johnnette has been my spiritual mother throughout my reversion back to the faith and I've been blessed to know and work with her all these years."
3 What is your favorite devotion?
"I love the Holy Rosary and am grateful that we added our outreach of praying the weekly Women of Grace Rosary Crusade with prayer warriors from around the world. Our Lady said that the Rosary could stop wars from happening and I believe her!"
4 Who is your favorite saint?
"I have been a devotee of St. Thérèse of Lisieux. I can relate to her being a spoiled child in her early years and desiring to become a great saint, despite her seeming 'littleness.'"
5 If you could have lunch with Jesus today, what would you want to talk about?
"A few things I would like to discuss with Jesus are:
a. Why does discernment have to be so hard. Not everyone has access to a spiritual director.
b. How can we better embrace the crosses that are entrusted to us, overcome the fear of suffering, and be more surrendered to accept them in union with His redemptive plan?
c. What was it like to be reunited with God the Father and St. Joseph in heaven when He ascended?"
© All Rights Reserved, Living His Life Abundantly®/Women of Grace®