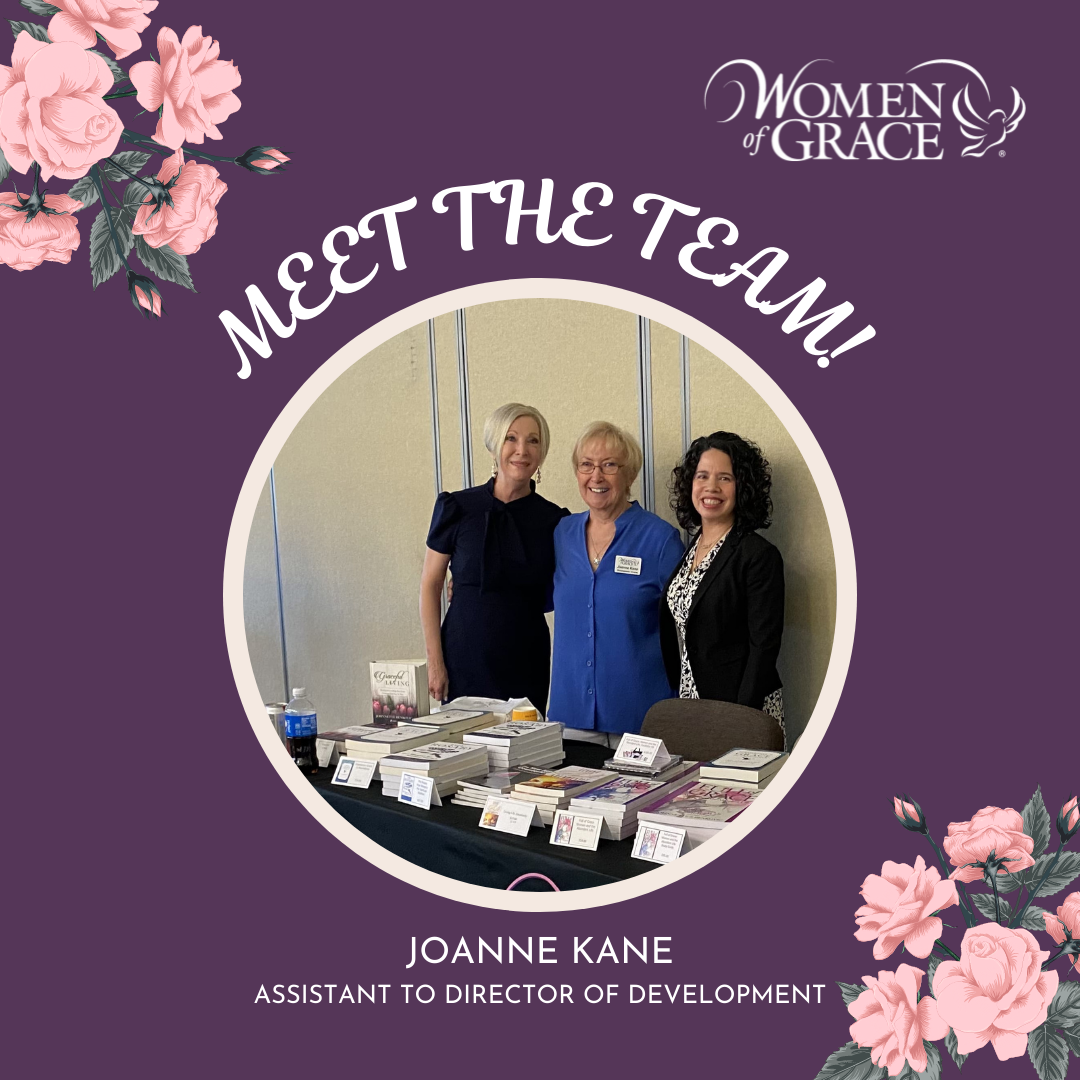 It's time to meet the team that makes Women of Grace the impactful apostolate that it is!
Today we're featuring Joanne Kane, the Assistant to our Director of Development. We hope you enjoy learning more about Joanne from her answers to the questions below. Stay tuned for regular "Meet the Team" features!
1 How long have you been on the Women of Grace team and how did you begin?
"I have been a part of Living His Life Abundantly since 1998.  I started as a volunteer making outbound donation calls and very shortly thereafter joined the development team.  I have been traveling with Johnnette for about 15 years to speaking engagements, retreats, and conferences being the on-site coordinator and handling sales and all that entails."
2 What do you love best about Women of Grace's apostolate?
"What I love best about Women of Grace is being able to interact with women of all ages to help them understand their true calling as Women of Grace and daughters of God. Meeting women at events brings a greater fulfillment to what I have been called to do. When you can reach just one person and see the light shine in their eyes it is so rewarding and a confirmation of where I am supposed to be. And to be part of this sacred sisterhood is a blessing!"
3 What is your favorite devotion?
"The Anima Christi is my favorite prayer and of course the Rosary and Mass"
4 Who is your favorite saint?
"I have many go-to saints - St. Padre Pio, St. Theresa, St. Joseph, and of course St. Anthony who is always helping me find what is lost."
5 If you could have lunch with Jesus today, what would you want to talk about?
"I would probably be tongue-tied at first and in awe! But asking Him where I have gone astray and how I can get on the right path and closer to Him and His mother."
© All Rights Reserved, Living His Life Abundantly®/Women of Grace®