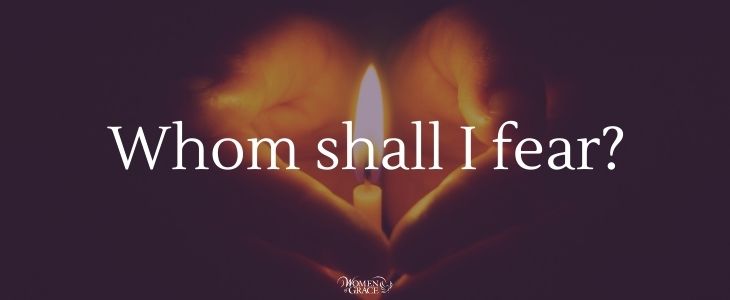 May the peace and love of Our Risen Lord Jesus Christ be yours today and always!
Thank you for your support of our mission to transform the world through our outreach and formation programs for women. If ever there was a time when forward movement was of the utmost importance, it is this time. With courage, vigor, constancy, and hope, we must rise up to meet the challenges of the day, always remembering that though they may be great, God's grace is greater. The evil one would wrap us in chains of fear, panic, discouragement, and despair. But God wants to liberate us through His mercy, love, peace, and joy.
Is this a "Pollyanna" perspective? Not at all. It is the supernatural outlook of great saints. Catholics fundamentally are realists. We don't live in a state of delusion. We see the misery of a situation, the pathetic character of a problem, the sadness of a grief or grave sorrow. However, in the midst of it we see the hand of God at work. And that gives us hope to carry on and be those "more than conquerors in Christ Jesus."
Catholics are indeed realists, but idealistic realists who ultimately see the Ideal Himself – God – the One who "works all things to the good for those who are called according to His purposes." The saints knew this, lived this, and were filled with joy and hope and love and peace, even as they gave their lives for it. You were made for this time and this time was made for you!
The following psalm captures this sentiment perfectly. It seems as if the Psalmist wrote it for such a time as this. Let us take it into our time of prayer and ask the Holy Spirit to enliven us, embolden us, and encourage us through it to be the great saints of our day and time, bringing Salvation to the world even as the world works to purify us and sanctify us so we may accomplish it!
Psalm 27: The Lord is my light and my salvation; whom shall I fear? The Lord is the stronghold of my life; of whom shall I be afraid? 2 When evildoers assail me, uttering slanders against me, my adversaries and foes, they shall stumble and fall. 3 Though a host encamp against me, my heart shall not fear; though war arise against me, yet I will be confident. 4 One thing have I asked of the Lord, that will I seek after; that I may dwell in the house of the Lord all the days of my life, to behold the beauty of the Lord, and to inquire in his temple. 5 For he will hide me in his shelter in the day of trouble; he will conceal me under the cover of his tent, he will set me high upon a rock. 6 And now my head shall be lifted up above my enemies round about me; and I will offer in his tent sacrifices with shouts of joy; I will sing and make melody to the Lord. 7 Hear, O Lord, when I cry aloud, be gracious to me and answer me! 8 Thou hast said, "Seek ye my face." My heart says to thee, "Thy face, Lord, do I seek." 9 Hide not thy face from me. Turn not thy servant away in anger, thou who hast been my help. Cast me not off, forsake me not, O God of my salvation! 10 For my father and my mother have forsaken me, but the Lord will take me up. 11 Teach me thy way, O Lord; and lead me on a level path because of my enemies. 12 Give me not up to the will of my adversaries; for false witnesses have risen against me, and they breathe out violence. 13 I believe that I shall see the goodness of the Lord in the land of the living! 14 Wait for the Lord; be strong, and let your heart take courage yea, wait for the Lord! -(RSV-Catholic Edition)
We continue to forge ahead with our plans to hold the in-person retreat in San Antonio. Please don't let fear stop you from joining us. We need this time together. Our theme is Made for Joy: The Call and Gift of the Catholic Woman. We will also be offering a
Benedicta Enrichment Seminar (September 16 and 17), a Women of Grace Retreat (September 17 and 18), AND a Young Women of Grace Retreat (September 18)
.
Please pray for our event team, our local regional team and all of the attendees who will be joining us. May God shower us in His grace and mercy.
May the abundant life of Jesus Christ be yours and may God bless you!
Gratefully yours,
Johnnette Benkovic Williams Founder and President