By Susan Brinkmann, OCDS Staff Journalist Brother Arun D'Souza, SJ, is still in the disaster stricken country of Japan, and says only prayer can give the people the boost they need to overcome the daily hardships they are facing.

In an exclusive interview with
AsiaNews
, Br. D'Souza spoke from Yamaguchi, Japan, a prefecture about 1,200 kilometers from the epicenter of the 9.0 quake that struck the area on March 11. Even though his area was not directly affected by the quake, they can see the unfolding tragedy of the Japanese people. "The earthquake was just the start of things," he said. "The tsunami, with its ten-meter waves, destroyed the lives of thousands of people as well as the basic infrastructure. Water moved five kilometres inland, and the salt has made the area uninhabitable." The losses go beyond the imagination and human control, he said. "In Japan, for example, it is still winter, and the temperature still dips below zero. The cold at night is terrible. In the worst cases, four people have to share a slice of bread because food is hard to find."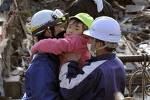 Almost a half million people are homeless and huddling in streets or evacuation centers. A week after the disaster struck, he believes things are getting worse instead of better.  "The first quake, which lasted four minutes, was followed by another 300 and experts expect them to continue for the remainder of the year. The ground moves several times a day, sometimes for three minutes. "I think people need prayers and encouragement to put the pieces of their lives back together. Only prayers can give them a boost. In a country like Japan, which is always prepared for a massive tragedy like this, right now everything is in God's hands and nature's fury." © All Rights Reserved, Living His Life Abundantly®/Women of Grace® 
http://www.womenofgrace.com