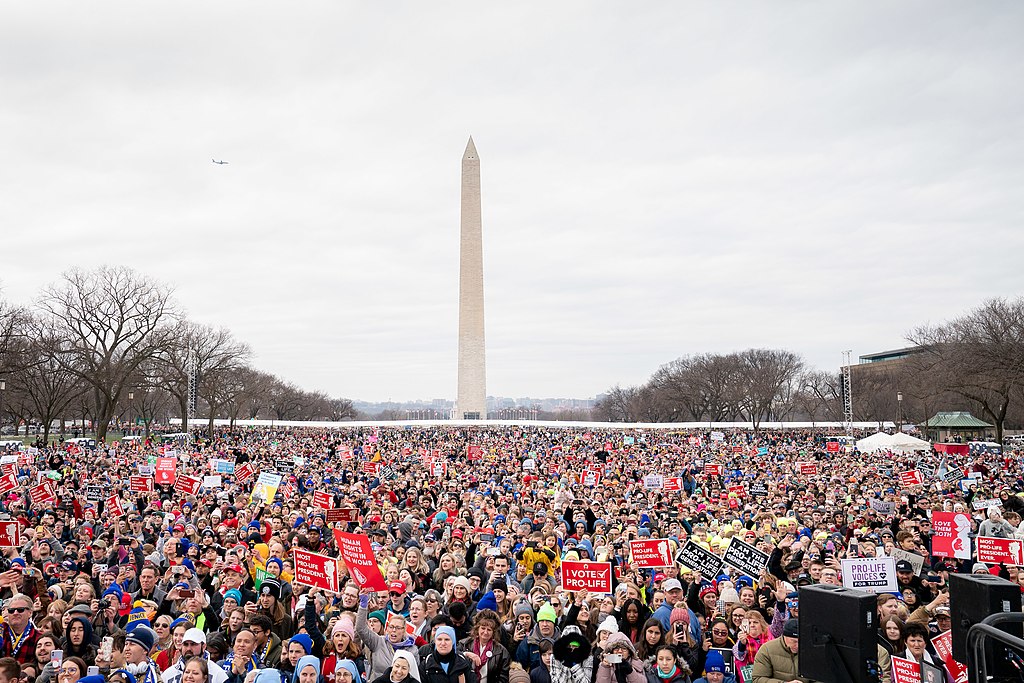 Next year's March for Life promises to be a march to remember as we celebrate the overturning of
Roe v. Wade
and commit ourselves to continuing the task of building a culture of life in America.
March for Life president Jeanne Mancini recently told Real Clear Politics (RCP) that for the first time in 50 years, the March for Life route will change. Instead of ending up at the U.S. Supreme Court, the route will now conclude at the U.S. Capitol.
"It is more important that we finish at the U.S. Capitol," Mancini told RCP, because now that Roe has been overturned, the issue has been returned "to our elected officials and to the people through their elected officials."
This is not just a symbolic change. It's a change that marks the beginning of a new strategy on the part of the anti-abortion movement aimed at marking "the start of a new leg on our journey towards building a culture of life."
Even though some say we no longer need a march now that Roe is gone, and that we should focus on advancing the cause in our states, Mancini disagrees.
"Such confusion could not be further from the truth! As we unveil our historic 2023 March for Life theme which will guide us towards our 50th anniversary and through our first post-Roe march, we seek to inspire clarity and enthusiasm among all pro-life people in this critical next phase of building a culture of life," she wrote in a recent blog.
"Vital to our strategic 'Next Step'" is continuing to boldly march each year in Washington, DC, now that the power to protect the unborn has returned to the American people through their elected representatives," Mancini says.
"We must tirelessly build a culture of life on Capitol Hill, and advocate for the advancement of federal pro-life policies. But it doesn't end there: we must also march in our state capitols, urging our state legislators to pass life-saving protections for the unborn. Last, we must continue to increase the safety net for moms and babies, especially by supporting pregnancy resource centers and maternity homes in our communities that provide love, compassion, and resources to women, children, and families."
She also warns that since the overturning of Roe, pro-abortion politicians in the U.S. and Senate voted in favor of the most radical expansion of abortion in American history, a bill deceptively named the Women's Health Protection Act.
"If passed, this extreme bill would nullify existing pro-life state laws, prevent the passage of future state laws that protect the unborn, and force taxpayers to pay for abortions nationwide — up until birth. Going beyond Roe, it would eliminate parental-consent laws. We can't afford to abandon the fight at the federal level now."
Another vulnerable area is the Hyde Amendment which prohibits government funding for abortion on annual appropriation bills and has saved an estimated 2.4 million lives since its adoption in 1976. Mancini calls this amendment "the most impactful pro-life policy in our nation's history" and shouldn't be taken for granted. Pro-abortion politicians are already talking about getting rid of the Hyde Amendment.
"This is by no means meant to distract us from our efforts in the states, but we must realize that the fall of Roe means the battle for life must be fought on two fronts now: state and federal," she writes.
For this reason, state marches for life will be an area of concentration. Enthusiasm is high at the state level because people once again have a say in laws protecting the unborn. The March for Life plans to be in all 50 states to support these marches.
Another focus of the pro-life movement will be to protect the work of Maternity Homes and Pregnancy Care Centers which provide assistance such as education, support services and essential medical care to over two million people every year and have saved more than 800,000 lives just since 2016.
"Despite the many violent attacks leveled at these centers since the beginning of May when the Dobbs decision was leaked, everything they do is driven by love for the women who walk through their doors and a deep desire to see them realize their dreams without sacrificing their children," Mancini writes.
The midterm elections will be critical and a red wave will block any attempt to pass the Women's Protection Act, overturn the Hyde Amendment, or codify Roe. Democrats are counting on the issue to ignite their lackluster base but enthusiasm among pro-life Americans remains even higher.
As former Vice President Mike Pence told RCP, "I'm convinced that enthusiasm among pro-life Americans in states across the country is equal to, or greater than, any new motivation by people that support abortion rights."
In addition, a lagging economy and out-of-control inflation is burying abortion as an important midterm issue. A recent Gallup survey found that only four percent of Americans ranked abortion as the country's "most important problem".
For the pro-life world, the overturning of Roe v. Wade was an event of titanic proportions. Kevin Roberts, the president of the Heritage Foundation, ranked it "right up there" with the Dred Scott decision and urged pro-lifers not to shrink from the abortion debate as too many conservatives have been doing during the midterm election season.
"I've been frustrated, but not surprised, that too many elected Republicans have wanted to run away from this," he told RCP, and believes elected officials need to be reminded that the goal of the pro-life movement is to make abortion illegal in the country.
"And they don't like to hear that or at least some of them don't. I understand it may take yet another 50 years to accomplish that," Roberts added. "But the March in January has the opportunity for us to really plant that flag."
March for Life 2023, which will be held on January 20, will be a historic moment for the pro-life movement as we come together to celebrate the achievement of a major milestone while joining hands to carve out a new path toward the ultimate goal of our mission - to rid this great nation of the scourge of abortion.
© All Rights Reserved, Living His Life Abundantly®/Women of Grace®  http://www.womenofgrace.com