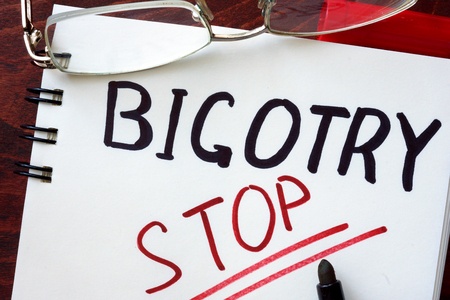 Commentary by Susan Brinkmann OCDS
The Catholic world was shaken this week by a troubling op-ed in the Atlantic that linked the Rosary with extremism. Unfortunately, this is just one incident in an alarming spike in the number of anti-Catholic incidents occurring across the globe.
"The recent flurry of anti-Catholic incidents at home and abroad is a disturbing reminder of how deeply entrenched this genre of bigotry is," says Catholic League president Bill Donohue. This bigotry was certainly on full display at the Atlantic this weekend in an op-ed by Daniel Panneton entitled, "How Extremist Gun Culture is Trying to Co-Opt the Rosary." 
"Just as the AR-15 rifle has become a sacred object for Christian nationalists in general, the rosary has acquired a militaristic meaning for radical-traditional (or 'rad trad') Catholics," Panneton writes in reference to Catholics who prefer the Latin Mass.
In addition to being hopelessly bigoted, Panneton offers no substantiation for his claims.
"Who are these 'rad trads'?," Donohue asks. "The author, Daniel Panneton, never really says. Not one person or organization is mentioned. So where does he get his information? Social media."
Penneton claims "Their ('rad trads') social media pages are saturated with images of rosaries draped over firearms, warriors in prayer, Deus Vult ('God wills it') crusader memes, and exhortations for men to rise up and become Church Militants."
Oddly enough, he cites Pope Francis, who is not a fan of the Latin Mass, as an example of this dangerous new breed of Rosary-loving Catholics because of this quote: "There is no path to holiness…without spiritual combat."
Panneton repeatedly conflates supernatural and conventional warfare throughout his article, which does little more than reveal his ignorance about the Catholic faith.
Unfortunately, he's not the only one to get the facts wrong. As Donohue cites, there was a 260 percent increase in anti-Catholic hate crimes in Canada between 2020 and 2021. These crimes range from the breaking of stained glass windows to church burnings and acts of desecration.
For example, the 114-year-old historic Saint-Jean-Baptiste Catholic Church in Morinville, Alberta, was razed to the ground in July of 2021 by a deliberate act of arson. It was one of 68 Christian churches that were damaged or destroyed last year.
"Some of this is a reaction to news reports alleging the discovery of 'mass graves' of Indigenous children on Catholic grounds," Donohue reports. "Those stories have been proven to be totally false—not a single corpse has been found in these 'mass graves.' But the damage that these lies have caused is considerable."
The Chinese Communist Party made a mockery of the Blessed Mother in a political cartoon tweeted by the Chinese Embassy in France after House Speaker Nancy Pelosi's visit to Taiwan. The cartoon "showed a witchlike picture of Pelosi crowned with a ring of stars, resembling Our Blessed Mother. She was shown trying to steal a baby from its crib, an apparent reference to her wanting to steal Taiwan from China," the League reports.
Pro-abortion forces in the United States have also resorted to attacks against Catholic Churches since the Supreme Court overturned Roe-v. Wade. Protesters interrupted a conference at the Napa Institute by screaming, "Get your rosaries off our ovaries." It was only when conference attendees began to sing the Salve Regina that the protesters left.
"On August 6, pro-abortion protesters showed up at the Basilica of St. Patrick's Old Cathedral in downtown New York City. At least five were arrested for harassing church-goers," Donohue continues.
"Many are responsible for fueling these incidents, and this includes those who affect the pop culture. Bill Maher showcased his anti-Catholic bigotry on Friday when he once again smeared homosexual priests for molesting minors."
The worst offenders are those who do nothing about attacks that escalate into violence, Donohue says, and cites U.S. Attorney General Merrick Garland. Garland was asked by the Catholic League to intervene in dealing with domestic terrorists who have attacked Catholic churches and crisis pregnancy centers, but has thus far done nothing to combat these incidents.
In spite of the demands of the "woke" culture, the kind of anti-Catholic bigotry that encourages division and contention still finds too many willing partners in the world.
As Donohue states so succinctly: "Bigotry against any demographic group, religious or secular, should be condemned by everyone. Regrettably, members of the ruling class appear to be selectively interested in doing so."
© All Rights Reserved, Living His Life Abundantly®/Women of Grace®  http://www.womenofgrace.com