By Susan Brinkmann, OCDS Staff Journalist A years-long spate of crimes committed against Catholic churches in California continues as police report a 780 year-old relic of St. Anthony was stolen yesterday just hours after it was put on display in a parish near Los Angeles.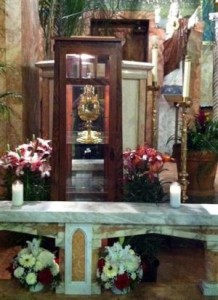 The Associated Press (AP)
is reporting that the relic was put on display at 6:00 a.m. yesterday morning at St. Anthony Catholic Church in Long Beach. Father Jose Magana said he decided to bring out the relic this year because it was the 780th anniversary of the death of St. Anthony and to encourage his parishioners who were struggling in the rough economy. When he opened the church at 6:00 a.m., the relic was still there, encased in a 16 inch-high case and gold and silver reliquary. However, when he glanced at the relic during the 9:00 a.m. Mass, he saw that it was gone. He heard an audible gasp from the congregation when they looked over and also saw that their precious relic was missing. As soon as Mass was concluded, he called police to report the theft. "It has no financial value, but it's our history, so it's irreplaceable," Fr. Magana told the
AP
. "It belongs to the church, not just the church here in Long Beach, but the entire Catholic church." Police are looking for an Hispanic woman in her late 30's who was very curious about the relic that morning and got so close to it she had to be asked to move back. The woman is short, about 5' 3" tall, heavy set, and has wavy, shoulder-length black hair. The last time the relic was on view was eight years ago when it was brought out to celebrate the 100th anniversary of the parish. Church members are upset that someone would steal a holy object, but their faith is  strong.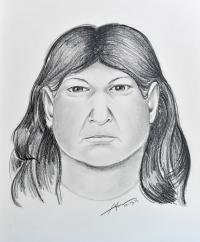 "They said, `Father, he's the patron saint of lost causes, so he'll come home,"' Fr. Magana said. "I'm hoping we've got some higher sources who've got our backs here and we can get it back," Fr. Magana said. "People here are pretty upset but they're praying. They're praying to St. Anthony for the return of his own object." Catholic Churches in California have been hard hit in recent years by a
spate of hate-crimes
such as the theft of consecrated hosts, the scrawling of satanic graffiti on church walls and doors, burglaries, desecrations, and the complete destruction of St. John Vianney Church in Hacienda Heights which was burned to the ground in April in what police are calling a "suspicious fire." © All Rights Reserved, Living His Life Abundantly®/Women of Grace® 
http://www.womenofgrace.com
The photo of the relic was taken by Fr. Brian Doran and was given to the AP by the Long Beach Police Department.