By Susan Brinkmann, OCDS Staff Journalist A Catholic church in North East, Maryland was desecrated last weekend when thieves broke into the building and stole the tabernacle.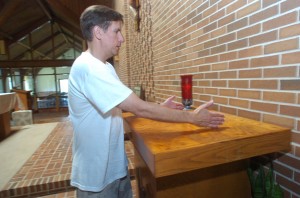 CecilWhig.com
is reporting that the crime occurred late Sunday or early Monday morning of this week at St. Jude Mission Church. A worker who was painting the church arrived on Monday morning to find several doors damaged and a closet door pried open. When the pastor, Rev. Joseph J. Piekarski, arrived on the scene, he discovered that the tabernacle containing the Eucharist was missing. "For Catholics, it hurts the heart," he said. "It's like they took our baby." Piekarski suspects the vandals were after money rather than wanting to commit a  sacrilege because the church's two poor boxes, which were empty at the time, were also ripped off the walls. However, the church is now considered to be desecrated and no services can be held there until  it has been reconsecrated. Father Piekarski notified the Diocese of Wilmington of the crime, who in turn notified the Vatican that a desecration has taken place. Police believe the burglary occurred between 8 p.m. Sunday evening and 7:00 a.m. Monday morning. During the same timeframe, someone broke a window at the North East United Methodist Church which is less than a mile away from St. Jude Mission. Police say nothing was taken from the Methodist church, but believe there's a "good possibility" that the two incidents are connected. Police are currently investigating the crime but there are no suspects at this time.  Estimated damages to the church are close to $10,000, including $8,000 in damages to the building and $2,000 for the brass tabernacle. Father Piekarski said the church, which is part of nearby Immaculate Conception parish, has never been vandalized before. "It's a shocker to Catholics that someone would do that," he said. A reconsecration service, which will offer penance in atonement for the desecration, will take place today and the church is expected to be back in use for this weekend's Masses. © All Rights Reserved, Living His Life Abundantly®/Women of Grace® 
http://www.womenofgrace.com
The photo was taken by CecilWhig.com of parishioner Jeff Maupin who is indicating where the tabernacle resided before it was stolen.