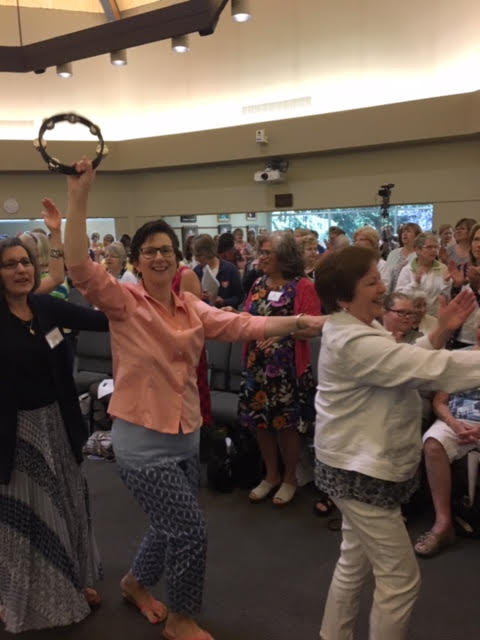 St. Teresa Benedicta of the Cross (Edith Stein) once said that women are, "God's special weapon against evil."
"We must consider the tactics of the devil and how to use the weaponry we have against them. One of the greatest defenses we have is the fruit of the mysterious union of the Holy Duet, Mary and the Holy Spirit, which can empower today's woman to meet the challenges of our day," says Johnnette Benkovic Williams, EWTN Catholic television and radio host, and Women of Grace® Founder and President. Johnnette wants to help answer the following questions for women today, such as:
• "How do we embrace the Holy Duet both practically and spiritually so we may experience the 'startling wonders' that come by way of it?"
• "What can we anticipate will be the benefits to ourselves, our families, and the world as a whole?"
• "In what ways will the union of Mary and the Holy Spirit within us prevail against the attacks of the devil toward ourselves and all those we hold dear?"
• "How do we safeguard our loved ones from the assaults of the devil and the culture of the day?"
The answers to these questions will be discovered at the Women of Grace® Retreat being held in both Lafayette, Louisiana on June 21-23, 2019 and in Albuquerque, New Mexico on August 2-4, 2019. This retreat will help women explore the relationship between Mary and the Holy Spirit and what effect it can have on their everyday lives.
"Participants will come to understand how the gifts of the Holy Spirit demonstrated through Mary can change any situation," says Williams.
The theme for this Spirit-filled event is "Embracing the Holy Duet: Mary and the Holy Spirit," and will feature Johnnette as well as Catholic evangelist and radio host Kathleen Beckman, L.H.S. Father Chris Decker will join Johnnette and Kathleen in Lafayette in June and Father Wade Menezes, C.P.M. will join them in Albuquerque in August. Jack Williams, General Manager of EWTN Radio and Thomas K. Sullivan, author of Called to Knighthood and creator of the Warrior's Rosary, will also speak at both events.
"We will examine how Mary and the Holy Spirit clothe us with the dynamism of love and distribute the spiritual gifts we need to overcome evil by doing good," said Kathleen Beckman. "The evil spirits fear a Godly woman. Come and discover why!"
Beckman is also offering a Benedicta Leadership Enrichment Seminar Thursday and Friday preceding the retreat that will help equip Catholic women with leadership skills they need to provide virtuous leadership in the 21st century. "Women: God's Special Weapon Against Evil," is the focus of this seminar and will be based on Wisdom 8:22-30.
Registration for these life-changing events are available through www.events.womenofgrace.com or call 1-800-558-5452.