This article, which I posted on our Breaking News site today, confirms what we have known all along - yoga is Hinduism and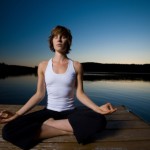 anything who says otherwise is just plain wrong. Frustrated with the American practice of yoga and its distorted view of the Hinduism upon which it is based, the influential Hindu American Foundation has launched a campaign to "Take Back Yoga" by reminding people that yoga is indeed part of the Hindu religion.
The New York Times
is reporting that the "Take Back Yoga" campaign is not necessarily aimed at convincing the 15 million Americans who currently practice it to become Hindu, but it wants people to be more aware of yoga's links to the religion. "In a way, our issue is that yoga has thrived, but Hinduism has lost control of the brand," said Dr. Aseem Shukla, co-founder of the Minneapolis based Hindu American Foundation. Their campaign is aimed at educating the public about the Hindu roots of yoga and has prompted them to take steps such as arranging for the Indian government to begin making digital copies of ancient drawings that show the origin of more than 4,000 yoga poses. They want people to know that the philosophy of yoga was first described in Hinduism's seminal texts and remains at the core of Hindu teaching.
Times
reporter Paul Vitello says the core of the debate concerns who owns yoga - the multi-million dollar yoga American fitness industry or Hinduism. The debate started months ago when Dr. Shukla published an essay critical of how the modern yoga industry tried to decouple the practice "from the Hinduism that gave forth this immense contribution to humanity."  He followed this article a few months later with a column that appeared in the
Washington Post
about how Hinduism had become a victim of "overt intellectual property theft," made possible by generations of Hindu yoga teachers who had "offered up a religion's spiritual wealth at the altar of crass commercialism." That drew the attention of Dr. Deepak Chopra, an Indian-American New Age guru who promotes Indian practices such as yoga and Ayurvedic medicine. He posted a reply to the
Post
column in which he said Hinduism was too "tribal" and "self-enclosed" to claim ownership of yoga. The fight was on, and an important debate began to take shape on the internet and throughout the  American yoga community and among religion scholars. One of the those scholars, Loriliai Biernacki, a professor of Indian religions at the University of Colorado, told the
Times
that she believes the debate is raising important issues about a spectrum of Hindu concepts that have permeated American culture, including meditation, belief in karma and reincarnation, and even cremation. "All these ideas are Hindu in origin, and they are spreading," she said. "But they are doing it in a way that leaves behind the proper name, the box that classifies them as 'Hinduism.' " Religious leaders such as R. Albert Mohler Jr., president of the Southern Baptist Theological Seminary, see this debate as a confirmation of what they have been trying to tell their flocks for years - yoga is Hindu and the practice imperils the souls of Christians who engage in it. Send your New Age questions to
newage@womenofgrace.com