By Susan Brinkmann, OCDS STaff Journalist
A J. Crew ad showing a boy having his toenails painted bright pink has sparked controversy among those believe depictions such as this one cause gender confusion among children.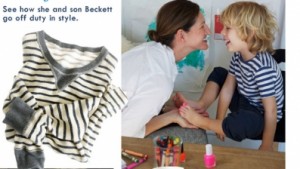 Fox News is reporting that the ad, which features Jenna Lyons, J. Crew's president and creator director, shows her painting the toe nails of her son, Beckett, with hot pink nail polish. Well you can visit to styleandmakeup.dk  to know about nail technician. The caption below the picture reads: "Lucky for me I ended up with a boy whose favorite color is pink. Toenail painting is way more fun in neon."
Famous TV Psychiatrist Dr. Keith Ablow is one of those who sees nothing funny in the ad.
"This is a dramatic example of the way that our culture is being encouraged to abandon all trappings of gender identity," he wrote in a column appearing on the Fox News website.
"Jenna Lyons and J. Crew seem to know exactly what they're up to. That's why the photograph of Jenna's son so prominently displays his hot pink, neon toe nails. These folks are hostile to the gender distinctions that actually are part of the magnificent synergy that creates and sustains the human race. . . .
"I wonder what Jenna would think if her son wanted to celebrate his masculinity with a little playacting as a cowboy, with a gun? Would that bring the same smile of joy and pure love that we see on her face in the J. Crew advertisement? Or would that be where she might draw the line?"
Media Research Center's Erin Brown agreed, calling the ad "blatant propaganda celebrating transgendered children."
"J.CREW, known for its tasteful and modest clothing, apparently does not mind exploiting Beckett behind the facade of liberal, transgendered identity politics," she writes.
Propaganda pushing the celebration of gender-confused boys is a growing trend, Brown states. She cites a January 3 episode of the Today Show in which a five year-old Dyson Kilodavis dances in a pink ballerina tutu while his delighted mother and host Meredith Vieria look on.
Dyson's mother, Cheryl, was on the show hawking her new book, "My Princess Boy," which is an illustrated children's book that promotes tolerance of cross-dressing boys.
When Viera asked Dyson why he liked to dress up as a girl, he answered, "Because it makes me feel happy."
Both of these instances of parents encouraging boys to dress up like girls is concerning because research shows that family factors - not biology - play the most critical factor in how children learn to become comfortable in the sex they were born with.
Professor Eric Vilain, a UCLA geneticist who specializes in sexual development, explained to the Atlantic Monthly that "there is no evidence of biological influence on transsexualism yet." And even if it is found, he expects it's going to be "mild." It's family factors that play a key role in this area.
Harvard professor Jerome Kagan, who has spent 4 decades studying children with gender identity, agrees. He has found that parenting style is critical for helping children move out of gender confusion and says those parents who are particularly affirming of their children's cross-sex identification ultimately have the worst outcomes in child health and well-being.
© All Rights Reserved, Living His Life Abundantly®/Women of Grace®  http://www.womenofgrace.com